How to try KDE Plasma 5.24 Beta on Fedora Kinoite
KDE Plasma 5.24 Beta is here! 🎉
On a classic Fedora system or on other disctributions you can try it with the repos listed on the KDE Wiki. Here is how to safely try it on Fedora Kinoite, using the packages for Fedora 35 made by Marc Deop, a member of the Fedora KDE SIG.
The latest version of KDE Plasma is usually available in Fedora Rawhide (unfortunately not available right now) however rebasing the entire system to a development version involves a lot of uncertainty. Thus it is much safer to change only the KDE Plasma packages and frameworks while keeping a stable system as a base.
As always, make sure to backup your data before trying out beta software that could result in the loss of your personal cat picture collection.
Setting up the RPM repos
Add the following Fedora COPR repos (frameworks, plasma) on your host and inside a toolbox:
Downloading the packages from a toolbox
Download the RPM packages from the repo:
The list can be generated from the following commands:
Overriding the packages
Use ostree to pin your current (hopefully working) deployment and then rpm-ostree to create a new deployment with (a lot) of package overrides:
And reboot.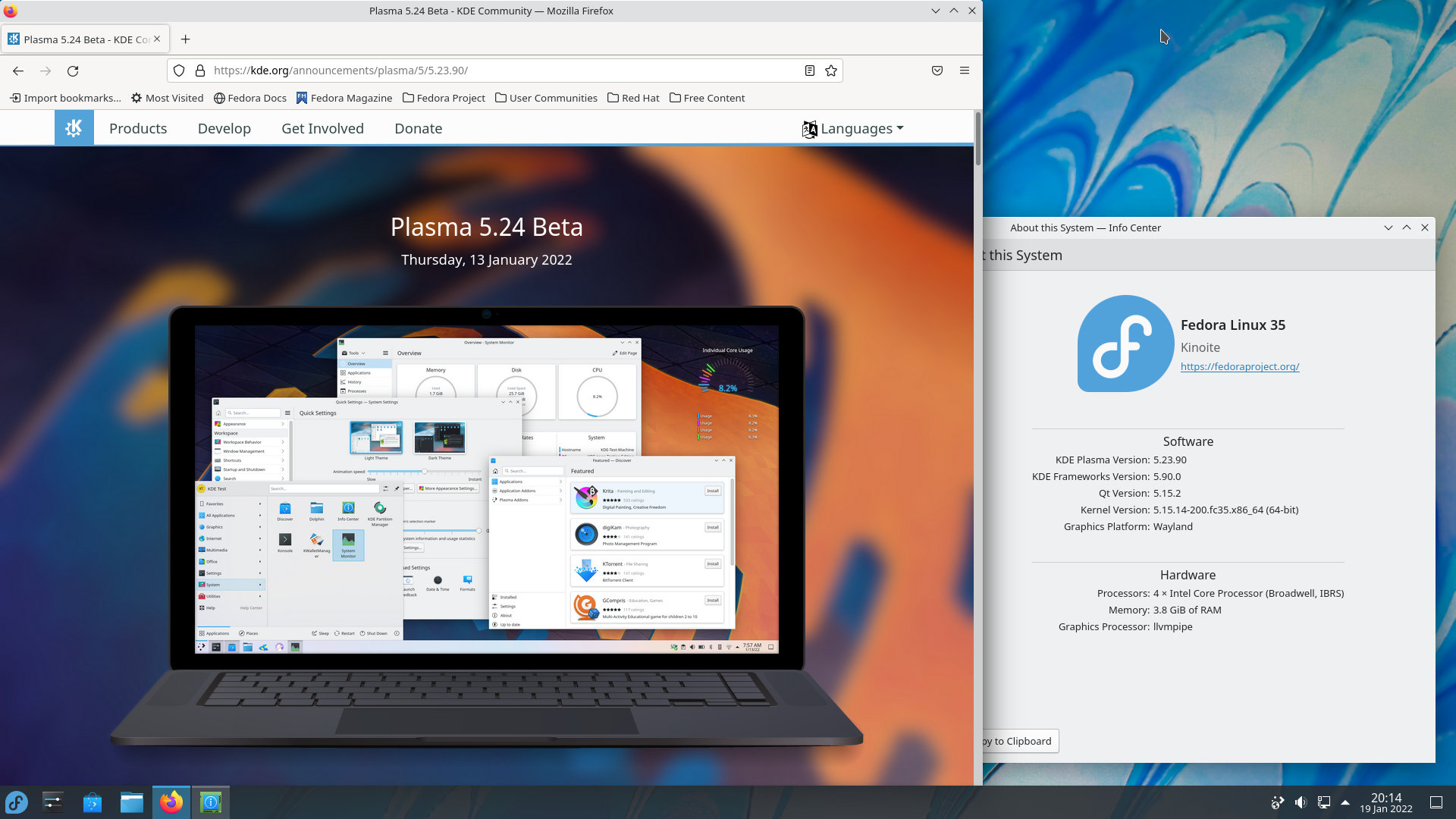 Rolling back
You can either simply boot the previous deployment, or rollback to it:
or reset all your overrides:
and reboot.
Conclusion
This is just the first step to make trying Beta versions of KDE Plasma and Apps easier on Fedora Kinoite. There is a lot of work in progress to make this process much easier in the future.
Comments are disabled on this blog but feel free to start a discussion with me on
Mastodon
.
You can also
contact me
directly if you have feedback.